Structured data
Category

Biology
Introduction #
Trehalose는 비환원성 이당류(non-reducing disaccharide)로 박테리아, 균류, 조류 및 식물과 같은 유기체에서 중요한 역할을 하는 것으로 알려져 있다. 식물의 병원균 및 초식성 곤충과 상호작용할 뿐만 아니라 다양한 환경 스트레스 (heat, cold, desiccation, freezing, hypoxia, oxidative stress)로부터 식물을 보호한다.
특히 Selaginella lepidophylla, Myrothamnus flabellifolius와 같은 resurrection plants가 99% 이상 수분이 제거된 극한 건조 환경에서도 생존할 수 있는 것은 이 trehalose 덕분인 것으로 밝혀졌다. 바로 수분 결핍 상태에서 건조 중량의 10~20%에 달하는 엄청난 양의 trehalose를 축적함으로써 수분이 재공급될때까지 버틸 수 있게 하는 것이다 (Gibson, Robert P., et al. 1955).
Trehalose의 생합성에 중요한 효소인 Trehalose-6-phosphate synthases (TPSs)는 최근 heat, nutrient, osmotic 및 dehydration 스트레스뿐만 아니라 독성 화학 물질로부터 식물을 보호하는 것으로 밝혀졌다. 특히 TPS는 trehalose metabolism과 glucose transrport 및 glycolysis를 연결하는 조절분자로 기능할 것으로 예상된다.
Identification of the potato TPS gene family members #
Xu, Yingchun 등 (2017)은 감자에서 8개의 TPS 유전자를 규명하였다. TPS 유전자는 서열의 길이도 3189-8406bp로 다양하고 59.91%~89.54%로 protein identity 다양하게 나타났다. 다행인 것은 2571-2796bp의 highly conserved 영역을 갖는다는 점이다. phytohormones, abiotic stress, development 등 다양한 자극에 대해 다른 조절 요소를 갖는 것으로 밝혀졌다.

Fig. 3 Exon-intron structures of the identified StTPS genes. The graphic representation of the optimized gene model displayed using GSDS. Genes were grouped by an unrooted phylogenetic tree resulting from the full-length amino acid alignment of all the StTPS proteins as shown on the left side of the figure (Xu, Yingchun, et al. 2017)
감자의 TPS 유전자와 다른 4종의 Solanaceae 식물을 이용하여 구축된 계통수를 바탕으로 TPS 유전자는 6개의 그룹으로 클러스터링되었고 purifying selection이 진화 과정에서 주요한 역할을 하였음을 확인하였다.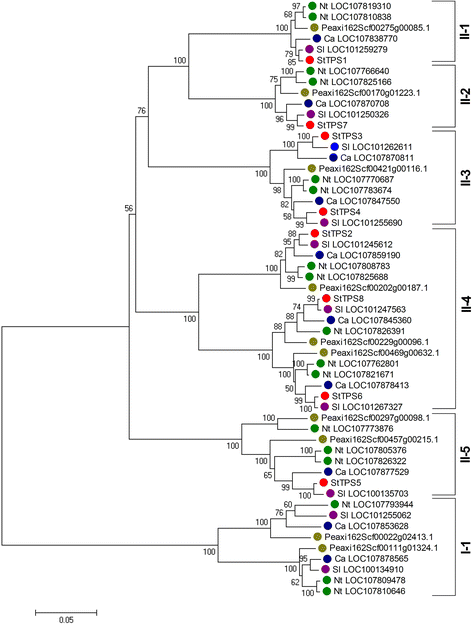 Fig. 6 Phylogenetic relationships of the TPS gene family members from potato (StTPS), tomato, pepper, tobacco, and petunia. The phylogenetic tree was constructed with MEGA 7.0 program by the neighbor-joining method (Xu, Yingchun, et al. 2017)
Salt, mannitol (osmotic treatment), heat 자극에 대한 differential expression pattern을 확인하였다. 특히 salt 처리시 StTPS2 유전자와 StTPS8 유전자를 제외한 대부분의 StTPS 유전자가 과발현되었고 삼투압 처리 조건에서는 StTPS1 및 StTPS5만이 과발현되었다. Heat 처리시 대부분의 StTPS 유전자 (특히 StTPS5)가 발현이 저해되었고 StTPS6 및 StTPS7은 과발현되었다. 동일한 그룹의 유전자는 유사한 발현 양상을 보였고 total transcript abundance는 salt stress에서 가장 높았다. 이전의 연구에서도 옥수수의 TPS 유전자가 salt 및 온도 스트레스에 반응하여 과발현된다고 보고된 바 있다 (Jiang, Wei, et al. 2010).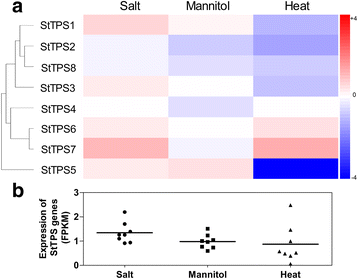 Fig. 9 Expression profiles of the three StTPS genes upon different abiotic stresses. a Abiotic stress conditions (24-h treatment of in vitro grown whole plants) consisted of heat (35°C), salt (150 mM NaCl), and mannitol (260 mM) treatment. Control plants were grown in parallel with each stress treatment. Color scale represents fold changes (Treatment/Control) normalized log2 transformed data. Red indicates upregulated and blue indicates downregulated genes. b The scatter plot figure shows the FPKM value of each genes
Reference #
Jiang, Wei, et al. "Cloning and characterization of functional trehalose-6-phosphate synthase gene in maize." Journal of Plant Biology 53.2 (2010): 134-141.
Gibson, Robert P., et al. "The donor subsite of trehalose-6-phosphate synthase binary complexes with UDP-glucose and UDP-2-deoxy-2-fluoro-glucose at 2 Å resolution." Journal of Biological Chemistry 279.3 (2004): 1950-1955.
Xu, Yingchun, et al. "Genome-wide analysis of the Solanum tuberosum (potato) trehalose-6-phosphate synthase (TPS) gene family: evolution and differential expression during development and stress." BMC genomics 18.1 (2017): 926.
Elbein, Alan D., et al. "New insights on trehalose: a multifunctional molecule." Glycobiology 13.4 (2003): 17R-27R.