Structured data
Category

Database
Carbohydrate-Active enZYmes #
CAZy 데이터베이스는 glycosidic bonds의 결합, 분해, 수정에 관여하는 효소들의 구조 및 기능적 도메인 정보를 담고 있는 데이터베이스이다.

미생물에서 식물, 동물에 이르기까지 탄수화물 대사와 관련된 단백질 효소의 서열을 정보화한다.

효소 활성에 따라 1차 5개의 class로 구분되며, 이들이 다시 2차 sub-class로 구분되는 categorization 되어있다.

Glycoside Hydrolases (GHs) : hydrolysis and/or rearrangement of glycosidic bonds

GlycosylTransferases (GTs) : formation of glycosidic bonds

Polysaccharide Lyases (PLs) : non-hydrolytic cleavage of glycosidic bonds

Carbohydrate Esterases (CEs) : hydrolysis of carbohydrate esters

Auxiliary Activities (AAs) : redox enzymes that act in conjunction with CAZymes.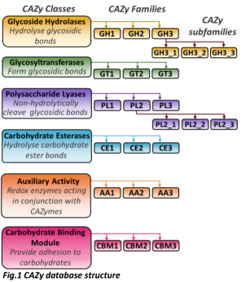 Reference annotation #